How to connect your Facebook ad account to your digital agency
How to connect your Facebook ad account to your digital agency
Subscribe to
Digital Smiles
This knowledge base article will explain how you can give ESM Inbound access to your Facebook ad account so that we can create ads and run campaigns on your behalf.
Steps:
Go to Facebook Business Manager and create a Business Manager account if you do not have one, alternatively log into your existing account.
If you need to create a new Account
Click create account and enter in your company name and your email address
Click the link emailed to you to open Business Manager
Click on "Business Settings" and go to "Accounts" and then "Pages"
Click the blue "add" button and select "add a page"
Type in the name of your company Facebook page and select it.
Then under "Business Settings", click on "Accounts" and then "Ad Accounts"
Click on the blue add button to add an existing ad account or to create a new one.
If you already have a Business Manager account
Go to "Business Settings"
Click on "Users" and then "Partners"
Under "Partner to share assets with" click the blue add button
Type in the ESM Inbound Partner Business ID:

1155246011205728

Under the "Pages" tab, select your company page and turn the toggle on for "Publish Content". Then, under the Ad Accounts tab, select the ad account and enable "Manage Campaigns"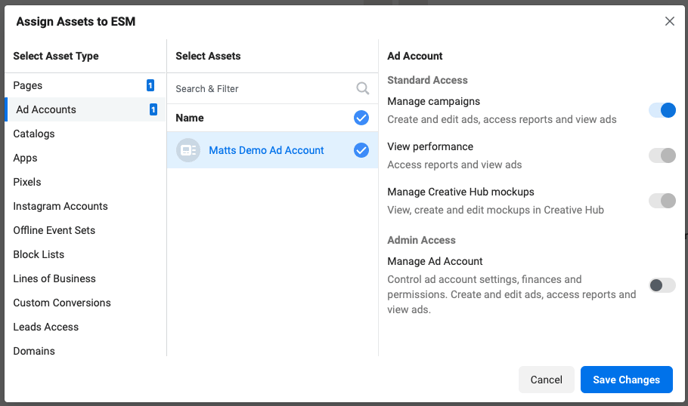 Click on Save Changes.
Our content includes affiliate links. This means that we may receive a commission if you make a purchase through one of the links on our website. This will be at no cost to you and helps to fund the content creation work on our website.
Other articles you may like
This knowledge base article will explain how add ESM Inbound to either your company Facebook page or company LinkedIn page.
Read More